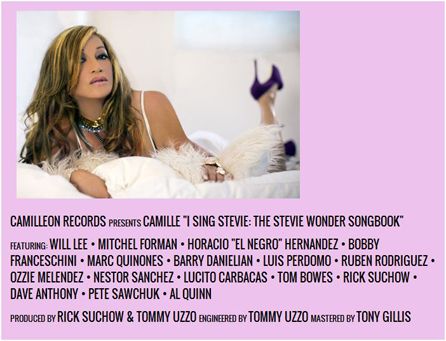 "Bravo! Love the version of 'As'... wonderful!" - Peter Erskine (Weather Report, Steely Dan)
"Camille has serious vocal skills and a wealth of experience to make her the perfect performer to attempt this musical 'Mount Everest'." - Raul Amador, Bass Musician Magazine
"I'm really impressed. Camille sounds great, a fantastic job." - Mitchel Forman (Metro, Wayne Shorter Group)
Just on word of mouth, Camille's new album landed in Amazon's Top 10 on three different charts in its first week of release (#2 Latin Jazz, #6 Salsa, and #9 Contemporary R&B)!
Of course big things lay ahead in the coming year, as management and PR teams are put in place and the real promotional machine gets cranking. Congrats to Camille on a great opening, and we look forward to seeing a successful journey.
Feel free to check out sound samples and order directly yourself... details at CamilleMusic.net.
---