It seems that every year starts out the same for me: I vow to do less, work less, take it easier, relax more. Hasn't seemed to work out that way yet.
Another brutal New York winter is finally over, thankfully. Now that the shivering has subsided and spring has sprung, some reflection is in order before I get back in the saddle of my non-stop life.
Although I only did two full length bass interviews in 2014, they were certainly highlights in my writing experience, and for one simple reason: both were with Nathan East. In January 2014 I interviewed him before his debut solo album came out, and at the end of the year I caught up with him again just as his full length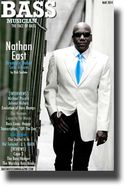 documentary For The Record was released. His brilliant album was a true success story: #1 on the jazz charts, Grammy nominated, destined for classic status. Lots of bass players put out musically great albums (well maybe not lots), but in Nate's case I think the album went the extra mile because of that likeability factor he exudes. The stars were aligned, and industry people, journalists, fans-- pretty much everyone-- jumped at the chance to support him in his solo debut. Bottom line, Nathan is just one of the most genuine people you could ever meet. It's a quality you can't make up and you can't fake; either you are, or you're not. In the words of his producer Chris Gero: "Everybody loves him."
Speaking of successes, a round of congrats to Camille (my wife), whose new album I Sing Stevie: Th

e Stevie Wonder Songbook was just nominated in the 2015 Independent Music Awards for Best Tribute Album. Submissions were received from more than 70 countries across 6 continents. Winners will be selected by a panel of industry judges and announced in June, but there is also a fan vote as well, kind of like a separate "People's Choice" award. We'd love for you to vote for Camille and I Sing Stevie: The Stevie Wonder Songbook as Tribute Album of the Year, so feel free to head over to the IMA site and give the girl five stars. You'll have to register, but it only takes a minute, and you will have our gratitude forever.
On the writing front, I recently wrapped up my tenure at Bass Musician Magazine after 5 years. It's been a fun ride, and because of the mag's arrangement with its writers I own my written content and therefore can reprint it on my site. But now it's time to move on, and I thank everyone over at BMM for giving me free reign to write whatever I want and interview whoever I want.
I've had a bunch of interesting gigs over the past few weeks, and in the little-known category of "you never know who's going to be in the room" I've had the opportunity to inject some low frequencies into the ears of both Madeleine Albright and Archbishop Timothy Cardinal Dolan.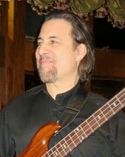 But, in the name of reflection, the personal highlight for me was in mid-March when I played my 3,769th gig (yes, I've kept track). Nothing particularly special about the gig itself, but for one thing: the date marked the 40th anniversary of my first professional gig. I'm not sure what it all means in the grand scheme, other than this musical train that I'm on has somehow kept rolling for a long time. Of course, in a business where ageism exists, and I'm generally surrounded by younger players, I don't necessarily feel the need to call attention to my age. But for just this one time I'm taking a moment to look back and be thankful that I've been able to do what I've loved to do for so long.
Oh, and that first gig in 1975? I remember it like it was yesterday. I was a keyboard player, still abou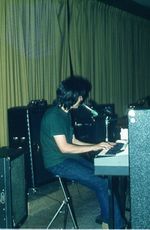 t two years away from becoming a bass player, so the low-end journey hadn't quite kicked in yet. The job was in our local Junior High School, I was playing a Farfisa Combo Compact organ and singing lead vocals (that's right) in a band I formed and called Intrepid. The first song I ever played live in front of an audience: Jethro Tull's "Locomotive Breath". Then we followed with the Stones' "Sympathy For The Devil". The rest of the set is a bit hazy (maybe I have that written down somewhere too), but I'm pretty sure the Allman Brothers' "Les Brers In A Minor" was in there somewhere. Anyway, it was an amazing feeling to perform live, and a total game changer. I guess that's what keeps us musicians doing it again and again. Sometimes even 40 years later.