Is it 1973 again? Iconic Latin-rockers Santana have just released Santana I
V, which reunites original members Carlos Santana, Greg Rolie, Neil Schon, Michael Shrieve and Michael Carabello. Original bassist Dave Brown passed away in 2000, but longtime Santana low man Benny Rietveld lends his talents to the Santana fold once again. Benny and I got to talk all about it the day before Santana and Journey co-billed for a loud and raucous night at Madison Square Garden (double duty for Neil Schon!). It's always great to chat with Benny, and it was a blast to see the show at the Garden. Check out my interview with him in the July issue of Bass Player.
On July 21st I'll be playing at the Bitter End on Bleecker Street with the Tate Simms Band, so if you're in the area come check us out! The band will be t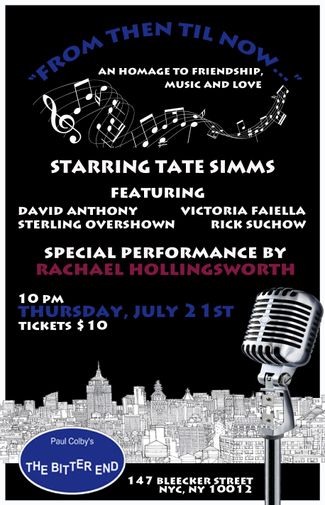 op notch. My own Bitter End story... years ago I was playing with the opening act for guitarist Arlen Roth, who at the time had the legendary Jerry Jemmott on bass in his band. I don't remember the circumstances, but minutes before we were set to go on stage to open, Jerry still hadn't shown up. Arlen asked me if I could play bass for him in the event that Jerry didn't make it. I don't recall what my answer was, or what shade of pale white my face turned, but I think I muttered something along the lines of, "yeah, I guess...". I didn't know any of his material, and had never heard it. What's that phrase they use? Oh yeah-- scared shit. Fortunately Jemmott showed up at the last minute and Arlen's band went on without a hitch and did their thing after we were done.
Writing for Bass Player is a blast, but time-consuming as well, so I haven't had much of a chance to add much to this site lately. I do plan to pick up the pace if possible though. I really appreciate people coming here to read my stuff, and I still get email via the Contact page all the time. Every now and then I'll get a nice message from someone who just wants to show their appreciation. Here's one I got back in May from a reader named Jeff Kramer, which I liked so much I asked him for permission to reprint his comments, and he did so. Thanks Jeff!
Here's his message:
Rick,
First of all congrats on such a great career of your own, and secondly thank you so much for providing this website for musicians and fans who truly appreciate the finest in bass playing. I was thrilled to find your site yesterday and have been reading virtually every article on here. It's almost as if you've created an on-line museum we can visit from our homes!
I was born in 1964 and grew up listening to CKLW and Motown. My very first records I ever owned were the Jackson 5 when I was merely 7 or 8 years old. At age 16 I became a drummer and have played many styles of music over the last 36 years. People ask what my favorite type of music is or who my fave drummers are, but honestly, the bass and drums must be "one" so I have grown to appreciate the best bass players in the biz. I love them all from Paul McCartney, Sting, Flea, Nathan East, Mars Cowling, Jaco, Geddy Lee, and on and on. And even though I've played some heavy rock in my day, my heart and soul is with Motown. James Jamerson is in my book one of the best bassists who has ever played the instrument. It's an absolute shame that we may never truly know the entire scope of his discography.
BTW, thank you for your work isolating bass lines of many of these greats. Your website is amazing and I am already forwarding your link to my musician friends! I noticed a Password is required to listen to some of the isolated tracks and that you graciously provide this as a service to the music industry, and NOT to profit from it. It is a joy to know that people like you can provide all of this historical video, audio and articles without trying to make a buck from it. Cheers to you, Rick and thank you again for your fantastic web page! -- Jeff