My first foray into music journalism was way back in college. I was attending Hofstra University and figured I'd take a shot at writing for the school's newspaper, the Hofstra Chronicle. It was a cool experience. I got to write reviews and do a couple of interviews, and it helped me to eventually land a writing position for Good Times magazine, which was the biggest local music-only paper at the time.
At the Chronicle my very first interview assignment was with bassist Percy Jones of the fusion band Brand X.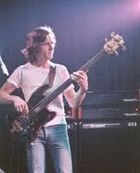 It was at the height of the jazz-rock fusion era, Brand X was on fire, and Percy had already established a reputation of being one of the most innovative and influential bassists in that genre. I went backstage after the show with no mic or recorder, just a pen and a pad, and chatted with one of my personal bass heroes. It was a bit surreal for me, and obviously a sign of things to come. I have no recollection of how it all went, but I did write the article.
Fast forward to late 2016. This time I had a recorder when I got to interview Percy for a second time a few months ago, not to mention a bit of experience under my belt. Amazingly, Brand X is back together for a reunion. Deja vu all over again! The results of our interview are in this month's January 2017 issue of Bass Player, which, by the way, also features a great cover story interview with Metallica's Robert Trujillo.
---