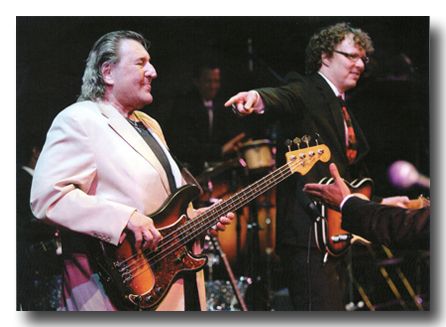 Bob Babbitt: Carrying The Jamerson Torch
by Rick Suchow
(This piece was published in Bass Guitar Magazine in January, 2010. Interviewing a bass legend like Bob was a thrill for me, and I appreciate that he let me know how much he liked my article. In fact, he quoted my opening sentence and put it on the home page of his website, where it remains to this day at BobBabbitt.com. 
Bob passed away in 2012, two years after our interview was published.)


It's probably safe to say that every minute of every day, 365 days a year, Bob Babbitt's bass is pumping out of some radio station somewhere. After playing on more than 200 Top 40 hits in a storied career now in it's fifth decade, few bassists have been heard more times and by more people than Babbitt.
Since his late sixties emergence at Motown's Hitsville USA, and on through a ten year run as a first-call bassist in New York and Philadelphia, eventually settling into the Nashville recording scene in the eighties, Bob his risen far above mere 'bass player' status; he's an institution. Now that the legend of Motown's anonymous sidemen, known as the Funk Brothers, has finally unfolded-- thanks to a landmark article titled "Standing In The Shadows Of Motown" by writer Nelson George, and a subsequent book and film of the same name by Alan Slutsky-- Bob Babbitt is finally getting some long overdue and well deserved recognition for his massive Motown accomplishments along with bassist James Jamerson. For all he has done in his career, Babbitt will likely be remembered most for his contribution to Motown's legendary catalog of hits.
"It's a genre," says Bob, reflecting on the impact of Motown even to this day. "You have jazz, you have R&B, Latin, pop, rock... and you have Motown. You listen to the radio, they always say 'we have the latest R&B and Motown'. It's like Motown has an identity of its own." He is also quick to credit his Funk Brother Jamerson for much of Motown's success. "He's largely responsible. A lot of people have said that Jamerson was Motown." Although one might tend to think that Babbitt's relationship with Jamerson was more competitive than camaraderie back in the day, that was not the case. "It wasn't competitive at all," he explains, recalling his earliest memories of Jamerson at Golden World Studio where Bob was a full time session bassist. "Motown bought Golden World, renovated it and reopened it as Motown Studio B, but when it was still Golden World, Jamerson used to come over there and hang out. Sometimes we did sessions there where we actually used two basses. I think my early relationship with him had a lot to do with me being at Motown. Let me put it this way, I think that if he were to have said, 'No, this isn't the right guy', I don't think I would have worked at Motown. He was a dominant force over there, and I was just fortunate to be there. After Motown opened Studio B they started signing lots of artists and producers and were trying to venture into different types of music. The workload was too heavy for just Jamerson." Babbitt was more than happy to share that workload, and in a just a few short years he had played his Fender Precision bass on countless records from the Hitsville machine, including classics like the Temptations' 'Ball Of Confusion', Smokey Robinson's 'Tears Of A Clown', and Edwin Starr's 'War', to name just a few. 
Babbitt's respect for Jamerson has never waned, and was clearly on display at the recent Fender Hall Of Fame induction ceremony, which recognized Jamerson's contribution to the Fender legacy. "It was a special day," says Bob. "They had a group of musicians who worked for Fender and they played the songs Jamerson played on. Fender started their Hall Of Fame about three years ago, and James was the first bass player they inducted. They asked me if I would do a little speech, and so I did about ten minutes and presented his wife Annie and daughter Penny with James' award." In his speech, Babbitt referred to the anonymity that Jamerson and his Funk Brothers toiled in for most of their Motown careers." Jamerson was really frustrated, because he had poured his heart and soul out. It wasn't like it is today-- there was no Internet, no Youtube, no websites. There weren't even any bass magazines back then. He was a little frustrated." I asked Bob if he felt the same way. "I didn't think about that then. I was happy to be working, I was raising a family. I don't think any of us thought that the music we were recording would have such an impact down through the years, to this day." 
By the early seventies Motown had packed up their Detroit operations and headed west for California, but not before both Babbitt and Jamerson had played on Marvin Gaye's groundbreaking What's Goin' On album, which would go on to become Motown's all time biggest selling album. "I knew it was something different," remembers Babbitt. "First of all, they had an entirely different drummer on the session I did for that album, a local drummer named Chet Forest who was more of a swing big-band drummer, a very excellent musician and an unbelievable drummer. That was the first thing that hit me. The second thing was that Marvin brought in another percussionist, who I think played with Donny Hathaway. And then Marvin played piano, and that was my first experience being in the studio with Marvin where I saw him play any instrument. And just the nature of the songs that I did with him, it was very experimental, trying different things." 
Clearly Marvin Gaye was aware of Babbitt's knack for coming up with the right bass line, and featured him on two songs that would both go on to be big hits, 'Mercy Mercy Me', and 'Inner City Blues'. Just how did he come up with those magical bass lines, and how has he done it throughout his entire career? "The most important thing is the feel," he says. "It has to feel right. If the singer is there in the studio, that will help out a little bit. And musicians feed off musicians. If all of a sudden someone starts playing a certain rhythm or something, you'll find yourself locking to that, or sometimes you have to be the 'instigator' I guess. It's real important for the drums and bass to work together. It's hard to describe, but you know it when you're there." Fortunately Bob had some of the best drummers in the business to work together with at Motown in funk drummers Benny Benjamin, Uriel Jones and Pistol Allen. "A spiritual connection," he describes it. "It's a feel in its own. And as I go around through the years and work with other drummers, I realize that it had its own identity." 
Although Motown headed west, Bob's instincts-- as well as the urging of a few well known record producers-- told him to head east, and he soon became a hugely in-demand bassist in both New York and Philadelphia for the next ten years, working with a virtual who's who roster of artists including Elton John, Barry Manilow, Dionne Warwick, and Jimi Hendrix. Bob found the decade-long experience to have both its ups and downs. "When I started working for Thom Bell in Philadelphia, it was a lot like Motown. There was definitely magic there." While it would seem that being a regular on the New York session scene would be just as magical for Bob, he paints a less than rosy picture. "I'd been on some sessions when I was in New York where they couldn't get the guy they really wanted. In New York there's a service called Radio Registry, and that service knows where everybody's at and everybody belongs to that service. If you were to book a session, you would have to call that service and say you wanted to book a session. And they would ask you to give them the names of three bass players, three drummers, guitars, whatever, in case they couldn't get who you wanted. So everyone would want Will Lee, Anthony Jackson, or maybe Neil Jason, those were the popular guys when I was there. If none of them were available, the Registry would say something like 'Oh we have Bob Babbitt here.' So I would walk into sessions and see guys that I didn't normally work with, and they'd look at me and say, 'Hey am I in the right studio?' And then what happens is, when you're put in a situation like that, you can't perform a hundred percent because you don't know if the guy likes you or not. Or maybe during the session one of the guys says 'Man, where's Will Lee at today?' So what does that make you feel like, you know? That was something I encountered a lot in New York." 
When the synth-bass heavy dance wave took over radio waves in the mid-eighties, finding work became a lot harder. Suddenly keyboard players and sequencers were dominating the bass chores in the studio, and bass guitar was often considered a dated sound. Bob knew when to take his cue and relocated to Nashville, where he still resides to this day. "With the Nashville recording scene there's still a live element," he explains. "I've never done any mainstream country sessions, and I've been here for over 20 years. The only thing I can say about Nashville that's disheartening-- and I have friends that experienced the same thing-- is that when I first came here I met with or called maybe a dozen of the key producers in town. They'd say 'Oh you live here now, oh man, give me your phone number, I've got a project for you.' And that makes you feel great, like you made the right move. But I haven't heard from those guys, never heard from any of them. I see them on the street once in a while, and you know what they say to you? 'Are you still here?' It's unbelievable. But you have to respect the fact-- and I do-- that they're loyal to their players. And Nashville has people coming here from all over the world, so I was fortunate in meeting some people from other countries that kept me busy. I even went over to tour in Norway several times. I guess once in a while you look back and ask yourself if you regret coming here, but everybody wants to come here now. It's unbelievable who lives here. And there's a variety of music here, it's great. It's not just one genre." 
And what are this Funk Brother's choice of basses these days? ''I've got the same Precision that I used at Motown. I took the bass over to Fender here in Nashville to try and find out what year it was made, because it was from when CBS just took over Fender. They told me it was either a '65 or '66. I also have a custom made bass built by a bass player out of Detroit named Ed Getz. They call him Toad, and I call the bass he made for me the Killer Bass, it's an unreal instrument. I mean he did it as a labor of love, and he's got woods from South America, woods from Africa, everything is gold plated on there, the knobs, the tuning gears. And some people I work for, they want that bass. Recently I've been working on a prototype for Fender for hopefully something in the future, if not a signature bass, maybe a tribute bass." 
As the Motown legacy grows over time, so does the list of artists who cover the classic Hitsville songs on their own records, some of whom have turned to Babbitt to get that authentic Motown mojo in the studio. "I just did some tunes on a new Rod Stewart album called Soulbook, he covered quite a few Motown tunes on that. And I'm getting set to record with Phil Collins in January in Switzerland, and Phil's doing 25 to 30 Motown songs." No doubt the day will come when the Fender Hall Of Fame inducts Bob as well. What would be the five songs he'd want to be most remembered for? "Definitely 'Scorpio' with the bass solo, 'Cool Jerk' by the Capitols, 'War' by Edwin Starr-- something about that song always stuck with me. Robert Palmer's 'Every Kind Of People' was a special song I think. 'Touch Me In The Morning' by Diana Ross. There were so many records, its hard to say what your favorites are." 
- Bass Guitar Magazine (Jan, 2010)