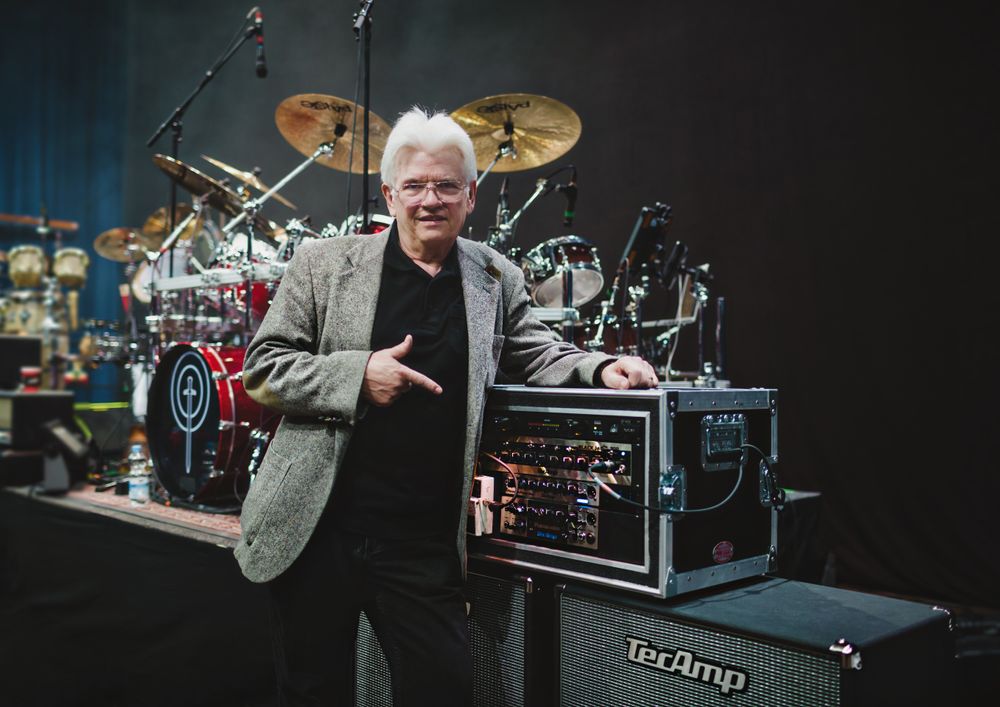 DAVID HUNGATE
Toto Recall 
by Rick Suchow
(In 2015 I interviewed original Toto bassist David Hungate for Bass Player Magazine.)
"It's been an incredible reunion," says David Hungate of his return to Toto, the band he co-founded in 1977 with his long time rhythm section mates David Paich and Jeff Porcaro. After playing on Toto's first four albums, Hungate packed up his well-established reputation as a first call session ace in L.A. and headed east to set up shop in Nashville. It turned out to be a remarkably seamless transition for the multi-instrumentalist; he spent the next three decades as much in demand as he had been on the West Coast. 
Although he's happy to be back with Toto, the circumstances that set the stage for his return were unfortunate: bassist Mike Porcaro, who replaced Hungate in '82, passed away earlier this year after a long battle with ALS (Lou Gehrig's disease). The band's recent tours have seen both Leland Sklar and Nathan East filling in for the ailing bassist, but Hungate has now stepped in full time, playing on their current tour and recording four tracks on the band's latest release, Toto XIV, their first album in nine years. 
  
After Mike's unfortunate passing, the band reached out to you to join them in the studio and on tour. What made you decide to take them up on it? 
  
I was honored and very moved to have been asked. Losing Jeff, losing Mike, I think the guys wanted as many original members as possible involved. Steve Porcaro came back after 27 years away, and Lenny Castro's back on percussion after a couple of decades. I hadn't toured with the guys in 34 years. I'm having the time of my life, but it's bittersweet knowing that if life was fair, Mike Porcaro--the other "original Toto bass player"-- would still be here playing great as only he could. This is truly a band of brothers. We've been though incredible highs and devastating lows and we're still here. 
How did you and drummer Jeff Porcaro typically work together and come up with those incredible grooves? 
  
I worked with Jeff for five or six years prior to Toto. We listened to each other; I don't recall there ever being any verbal exchange about what either of us would do. Paich was a huge part of the groove. The first versions of our original demos were just Jeff and Paich with synth bass. They decided they needed real bass and called me.   
  
You left L.A. for Nashville in 1982, just prior to Toto's world tour to promote the landmark Toto IV album. What were your reasons for relocating? 
  
Several reasons. Synth bass was starting to really come on in the late 70's, and the future looked questionable for my instrument in pop music. I couldn't see that happening in Nashville.  After commuting for a couple of years, I left the band in '82 shortly after my younger son was born. I didn't want to be on the road with two little kids at home, and I was just getting established in Nashville. That said, it was still a very hard decision.  
  
Your basses of choice on the early Toto albums were a '62 P-Bass and '64 Jazz. What were some of the others you played back then and in the years that followed in Nashville? 
  
I used a Yamaha BB 4-string a little bit with Toto. I used a Tele bass quite a bit in the early and mid 70's, and also had a late 70's Jazz that I had defretted, but didn't play either with Toto. I had two '62 P-Basses, one with Rotosounds and one with LaBella flats.  I got a Yamaha BB5000 5-string in the mid 80's and gradually shifted to 5-strings most of the time.  Over the years I played Lakland, Tyler, Sadowsky, Yamaha TRB and a Pedulla 5-string fretless, and did a lot of work on upright. 
  
In 2008 my friend and bass builder "Chopper" Anderson gave me a bass to try--his Alien Audio Constellation.  I immediately fell in love with the instrument; it's like the bass I've been looking for all these years. It's a 5-string with two P-style pickups and an onboard preamp designed by the late Moe West, a legendary Nashville electronics genius. It has 3-band EQ, is dead quiet and records like a dream.  I now have three of them--one a fretless--and seldom use anything else.     
  
How has your concept of the "perfect bass sound" evolved over the years? 
  
I've always been a kind of jack of all trades so I never thought of there being just one "perfect bass sound". Different tunes and different styles call for different sounds.  I came up listening to James Jamerson, Carol Kaye, Joe Osborn, Larry Graham, Max Bennett, Wilton Felder, Paul McCartney, Chris Squire, Leland Sklar, Jerry Jemmott, Rocco Prestia, Chuck Rainey, Jaco and a few others. They all had "perfect" bass sounds and they all sounded different.  I've gone through periods when I tried to emulate them all. 
  
I always wanted to be primarily a studio musician. To be successful at that long term it helps to be a chameleon and be flexible, to change with the times and the situation and have a working knowledge of a variety of styles.  I've always tried to have a few good sounds, and to be able to play with a pick or thumb as well as fingers. The Toto repertoire calls for all three.   
Other than the particular key a song is written in, what might determine which bass you choose to use on a particular recording? 
  
Sometimes a producer will request a particular bass.  I can get about any sound I need with the Constellation running through my rack.  I do occasionally pull out the '62 P-Bass with LaBellas for a really vintage sound.  Sometimes a song calls for fretless or upright. Generally speaking, if it's a ballad I go for a fatter, darker sound and if it's a rocker, more grunge and maybe I'll use a pick.  Certain feels are more comfortable to play with a pick—Boz Scaggs' "Lido Shuffle" was one, for example.  Traditional R&B calls for fingers and maybe some muting with foam rubber under the strings. Bluegrass or traditional country: P-bass or upright. 
  
  
What's it like for you to play live with Toto again, and do you feel like your career has come full circle? 
  
I was in my early 30's last time I was out with Toto. I'm 66 now, so there's sometimes a fatigue factor that didn't use to be there.  I'm a better player than I was then, though it took some practice to get my chops back up after 30 years of playing mostly music that wasn't that technically challenging. 
  
It seems a little miraculous to be back, though somewhat bittersweet as I said.  It's more fun to me now than it was 30 years ago; less drama, better buses, wi-fi. Full circle?  Absolutely, and I feel like the luckiest guy in the world. 
GEAR:
Bass: Alien Audio Constellation 5-string 
Studio Rig:
V76 Telefunken Preamp 
Tube-Tech Equalizer 
Teletronix LA-2A Compressor 
Live Rig: 
Amp: Tecamp Black Jag 900
Cabinets: Two Tecamp 4 x 10 
TecAmp Pleasure Board 
Strings: 
D'Adarrio 
SELECTED DISCOGRAPHY: 
With Toto: 
Toto (Columbia, 1978) 
Hydra (Columbia, 1979) 
Turn Back (Columbia, 1981) 
Toto IV (Columbiua, 1982) 
Toto XIV (Frontiers, 2015) 
With Boz Scaggs: 
Silk Degrees (Columbia, 1976) 
As Solo Artist: 
Souvenir (Club House, 1994)